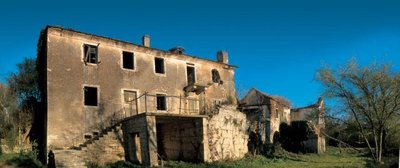 Want to live near sea shore, but still have your privacy, tranquility and a touch of luxury, then this is for you.

A complex of stone buildings for a complete renovation, is on sale near Žminj in Istria. Real treasure in the heart of Istria and great potential for the buyer, with over 4000 square meters of land, will enchant everyone.
Its construction began in 1825. year, as evidenced by the inscription above the window. It consists of four houses and three barns with surrounding yard. It is located on a hill, surrounded by forest. It is away from the asphalted road about a kilometer and from the sea 15 kilometers. Gross floor area is 2000, and land area 4399 square meters, with a possibility to purchase more land.
According to the revitalization of rural Istria and development of agritourism, which started in mid-90s, began the renovation of most of these complexes. Most of them have been restored in authentic form, which has retained a touch of tradition. Infields are decorated in a way of tradition, and local plants were planted so you can enjoy the air interwoven with scents of basil, rosemary and lavender.

Great potential lies in this country, because it can be renovated as a luxury house or more of them. It is possible to restore the complex as a little economic community for the production of olive oil or wine. If you want to make some money on this investment and rent complex, you can be sure that this kind of scenery and locations will satisfy even the needs of the most demanding tourists, and provide them fantastic comfort and enjoyment in nature. 

More about the property see HERE. (Maris)