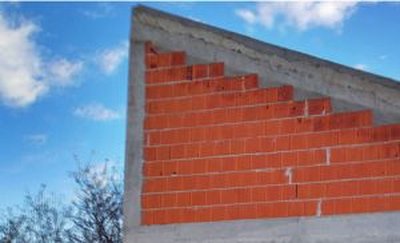 From the average family two floor house, slowly but surely my eighbors in the megalomaniac ecstasy, build a huge house. I bet they want a villa, but this is more likely to a skyscraper.

What bothers me is not about aesthetics. The practical part is the one that annoys me. Building started with the facade and setting the PVC. Then, in a couple of months started renovation of interior (apparently). I can understand that. This was followed by expansion of the already spacious balcony in the front of the, already three-story high family house. (I wonder what they adapted to the side of building I don't have in sight.)
And then finally, after months of work with interruptions occurred long period of peace and tranquility. The idyllic mornings returned in our street. 
Again we could hear the cheerful bird songs. The only thing that disrupted the harmony was nice but the early-morning, talkative neighbor with strident voice from the house in the corner, who's everyday routine included stopping just under my window. 
But some people do not have boundaries. You guess! A few days back I woke up with the sound of drills and the one odd machine that mixes the concrete. I think the neighbors plan to raide another floor. The builders gathered at the top of the house. Maybe they plan to build a pool on the roof with a view on marina. (Author: Nina Bašić)